SEO (Search Engine Optimization) is very important to help Google find and index your site.
STEP 1. Go to the SEO page
To change the SEO for your site click on Manage (1) and then select SEO (2)
STEP 2. Fill in the form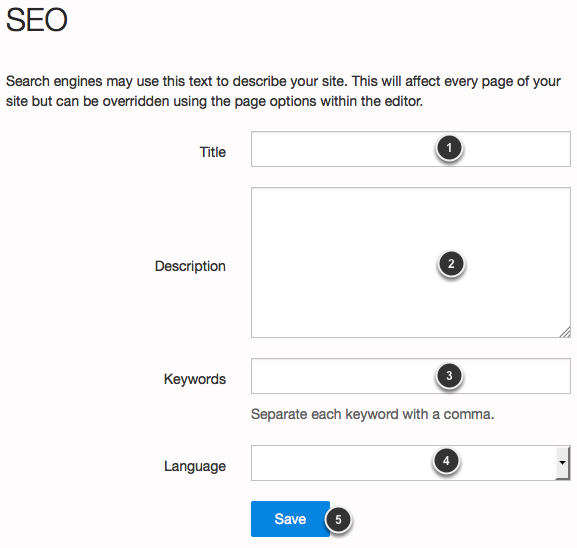 The data you add here will help Google indexing your site.
1. Add a Title to your site and make sure the title includes the name of your business and what you do (i.e. Beekayers photography shop)
2. The description of your site will appear right below the URL when Google shows your site in the results and it could be the reason why someone clicks on your link to take a look at your site, so be sure to add a description of what you do and where you are located.
3. Add some keywords that better describe your kind of business. Your site could be shown to people that uses these keywords when searching on Google (i.e. photographer, photography, shop, London, Kingscross, professional)
4. Select the primary language of your site.
5. Don't forget to Save your changes when you are done
IMPORTANT: The changes you make here might not get updated right away in Google. You will need to wait up to 2 weeks before seeing the changes taking place on search engines.